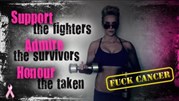 Melanie Cliffe

Expires
Sunday, 21 September 2014
Mel Run's For Life
Hello everyone,
yes, i am doing it again ;)
I am taking part in the Blackmores Sydney Running Festival 2014 and hoping to raise much needed fund for Breast Cancer research.
This September, I'm going to be sweating it out, smashing my last years results and doing my best to complete a gruelling 21 Km course over the Harbour Bridge, around Sydney's CBD and finishing at the Opera house.I am honoured to be a part of this amazing race and helping a great cause and I'd really appreciate your support in this challenge.
I had many generous supporters 2 years ago, when i endeavoured this track for the first time, with a heavy heart.
You all will be relieved to know, that in the meantime, Mum has soldiered through operations, 9 rounds of chemotherapy ,33 rounds of radiotherapy and is, as of right now, as healthy as she could be.
Nevertheless, this terrible disease is still very much present.
Cancer has affected nearly everyone i know in some way or the other.
Some cancers still have no or very limited treatment. This frustrates and terrifies me and this is why i choose to run this track every year, not just for awareness but also to take a stand against cancer.
Speaking out for the ones still fighting and the ones we have lost. We need to find a cure, better treatment and increase the quality of life for everyone having to live with this illness.
Thank you for your support and helping making a difference. Every $ counts and every kind word of support makes me run faster ;)

National Breast Cancer Foundation
The National Breast Cancer Foundation is the leading community-funded organisation in Australia raising money for research into the prevention and cure of breast cancer.

We are privileged to work with the public who both give and raise funds and the research community to whom we grant funds to change the health future.

Since the National Breast Cancer Foundation was established in 1994, more than $127 million has been awarded to fund over 430 Australian-based research projects across every state and territory to improve the health and wellbeing of those affected by breast cancer.

We are very proud that the National Breast Cancer Foundation raises and grants funds exclusively for research, because we believe research is the most effective way to end breast cancer. We are also very proud of the fact that the National Breast Cancer Foundation has a commitment to funding research right across the spectrum – from understanding the fundamental basis of the disease to psychosocial research aimed at improving the quality of life for survivors.

Thank you for helping us move towards our goal of zero deaths from breast cancer by 2030. With 44 Australians diagnosed and eight women dying every day, there is still much to do.
FUNDOMETER
Target
$1,000
Raised So Far
$1,188
Biggest Supporters:
Suncorp Bank: $300.00
Micaela Darragh Darragh: $200.00