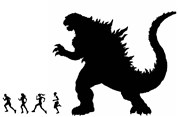 Michael Streatfeild

Expires
Friday, 17 July 2015
Run! GODZILLA!

We are taking part in the Blackmores Sydney Running Festival 2014 and hoping to raise much needed funds for charity.

This September, we are going to be sweating it out and doing our best to complete a gruelling course over the Harbour Bridge, around Sydney's CBD and finishing at the Opera House steps.
We are honoured to be a part of this amazing race and helping the research to find a cure for cancer which has had a devastating effect on many people close to us and most likely someone you love too. I'd really appreciate your support in this very worthwhile cause.
Thank you for your support and helping to make a difference!
Team - Run! GODZILLA!
Leeroy Agogo, Beth Gwodz, Beanie Farr and Michael Streatfeild

Australian Cancer Research Foundation (ACRF)
The Australian cancer Research Foundation (ACRF) is dedicated to helping discover the treatments and cures for cancer by funding world class research within Australia.

The ACRF is the largest private funding body for cancer research in Australia. Since its inception in 1984, it has awarded $129.2 million in grants to the most promising cancer research projects in the country including the cervical cancer vaccine which has, since its release in 2006, been administer to women and girls in over 100 countries.
 
 What makes the ACRF different?

We raise funds exclusively for research into the prevention, diagnosis and treatments for ALL types of cancer, in centres right across Australia.

We help to finance facilities and equipment not otherwise provided for by State or Federal governments, and we receive no government funding ourselves.
Please make sure you are LOGGED IN. You can only join a Team Leader page if you are logged in and have an Individual page created. If you do, it will be displayed here once you've logged in. If you don't, please return to the 'home page' and follow instructions on how to create your Individual page.
FUNDOMETER
Target
$600
Raised So Far
$512
Target
$600
Raised So Far
$1,067
Team Members
My Total: $512
Team Total: $1,066.60
Michael Streatfeild reached his target of $500.00 and qualified for a $55.00 rebate but chose to leave it with Australian Cancer Research Foundation (ACRF) to help make a difference.
Biggest Supporters:
Suncorp Bank: $300.00
Michael Streatfeild: $100.00